Here's some background information
, a meditation and a talk, on "Life with Full Attention"
: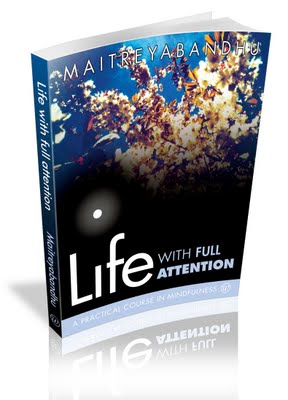 Following on from 'A good week' in Hastings (20th-26th June), the course, based on the book, will be run on the following days and times, unless there are sufficient requests for re-scheduling:
Tuesday evening group: 7.15pm -9.15pm:

June 28th, July 5th, July 19th, July 26th, Aug 2nd, Aug 9th, Aug 16th, Aug 23rd

Thursday morning group: 10.30am-12.30am:
June 30th, July 7th, July 21sr, July 28th, Aug 4th, Aug 11th, Aug 18th, Aug 25th
Saturday afternoon group: 2.30pm-4.30pm:
July 2nd, July 9th, (July 23rd - informal gathering with full attention on the beach), July 30th, Aug 6th, Aug 13th, Aug 20th, Aug 27th
The course leader is
Paul Crosland
, a "trainee ordained Buddhist ie I asked for ordination in 2006" & I have been practising within the Triratna Buddhist movement since 1998.
Note: No groups being held in the week of 13th-17th July because these are the dates of a festival to which the course leader
is provisionally planning to attend. If you wish to go to the
Buddhafield festival
too, please
liase.
To read more about the Buddhafield Festival, and
Paul Crosland
's previous work there in sharing,
please see here
.
And here's an introduction to Mindfulness which I recorded at the Action for Happiness launch event: